The Siding Experts in Wilmington,NC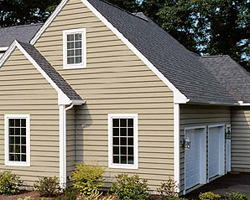 American Built Windows of Wilmington, Inc. has several types of siding for homes and it's important that you consider a few factors to determine what type of siding is right for your home. Think about water resistance-types that are water resistant will last longer. Check the R-value rating for energy efficiency, and then find something that is visually appealing to you. Make sure the siding is versatile to meet the needs of the home renovation project and decide which type will have the durability needed for your climate.
Cedar Shake Siding
Cedar Shake is thicker and less uniform in appearance, but they do last longer.
Board and Batten
This style of siding has been used for centuries and is sometimes referred to as barn siding. Vertical panels with wide boards are placed on with no set standard width or length, meaning it can be customized for your home.
Vertical Siding
Vertical siding has become very popular as an accent element. The pattern of vertical lines can have a very powerful effect: it is an excellent choice for entryways, low porch walls, gables and dormers.
Traditional Lap Siding
This type of siding originated in the 1960s and is the number one siding type in the country because of the cost, versatility, and low maintenance. There are virtually endless color choices and can have horizontal, vertical, shakes, shingles, fish scales, and bead design panels. Wash the surface occasionally and this siding will last indefinitely.
Gutters
American Built Windows of Wilmington, Inc. offer 5 inch seamless gutters. Installing gutters to your home protects against the damage that can be caused by water run-off. They also protect the fascia, soffit, window sashes, doors and your home's foundation from water damage.
Shutters
Shutters add beauty to the exterior of your home by choosing from a variety of colors in either vinyl exterior raised panel shutter or vinyl louver shutters.