Customized Door Styles in Wilmington,NC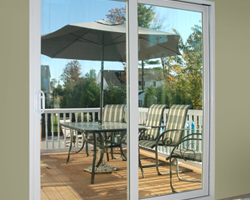 American Built Windows of Wilmington, Inc. has several types of doors for your home, whether you are building a new home, need repairs, or want to make an update. We have customized styles for the front door, back door, and patio doors. Find the perfect color, style, details, and material to suit your home's architecture and your preferences.
French Doors
French doors add an entry that looks beautiful from both the inside and outside of your home. Available with or without grids and with an in-swing or out-swing capability.
Full View Doors
Full view doors can be used as exterior doors.
Entry Doors
There are many choices in size, composition, and style for standard doors. They are usually 6 foot 8 inch, 8 foot, and 10 foot in heights, while widths range from 24 to 36 inches.
Sliding Doors
Sliding doors serve as an elegant and convenient exterior door to a patio or backyard. They have tracks in the top of the door jamb and the bottom has a guide. Our sliding doors are available in 5, 6, 8 and 9 ft. wide. Save space and bring more outside light in with the full length window panes.