Custom Manufactured Vinyl Windows in Wilmington,NC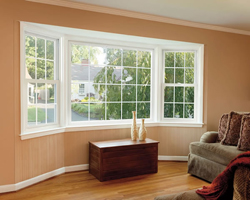 American Built Windows of Wilmington, Inc. offers variety in style, design, and function for new or replacement windows for your home. Whether it's a small basement window, large full-length window, or anything in between, we have high quality, energy efficient windows to meet your needs.
Double Hung Windows
Our double hung windows have two slashes that slide vertically up and down in the frame. They can open from top or bottom, but stay in the frame so they don't protrude out into the exterior or interior of the home. Both window sashes tilt in for easy cleaning.
Single Hung Windows
Single hung windows can be raised from the bottom for ventilation and have a fixed top sash that does not tilt in or move up and down.
Casement Windows
These hinged windows operate by a turn of a crank and can be hinged right or left to open outward. These windows can be found throughout the house, but especially in kitchens. The frames are thin and sleek.
Awning Windows
These windows are hinged at the top and open outward to let in air from left or right and the bottom. They can be installed above, below, or alongside a stationary or operating window. Awning windows from American Built Windows of Wilmington, Inc. look stunning in living rooms, offices, family rooms, and formal sitting rooms.
Picture Window
This window type is a large stationary window that let in the maximum amount of light and views of outside.
Transom Window
Transom Windows are narrow and stationary. They are mounted above a door or window to let in more light. They often fit in well in bathrooms, laundry rooms, and breakfast nooks.
Slider Windows
American Built Windows of Wilmington, Inc. also offer slider windows, which glide along a track and have at least one operating side. Very contemporary, these windows are ideal for bedrooms and any room on the second floor. Slider windows add a contemporary look to any room in your home.
Bay and Bow Windows
These types of windows give you some extra interior space as they protrude out from the siding of the house. They often have a stationary window in the middle and operating windows on the sides.